Rare Items
Edit
This page is a in-depth look at the items, boosts, and etc all found in the "Rare Items"
section of the Inventory.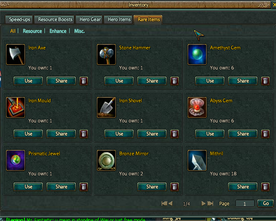 Resource Items
Edit
These are items that once used can boost your current resource amounts in a specified manor of your choosing. Some items boost every different resource while others can only boost specified resources.
| Item PictureEdit | Item NameEdit | Effect DescriptionEdit |
| --- | --- | --- |
| | Iron Axe | Exchange 100 to 1000 Wood. The longer the server is open the higher the exchange rate. |
| | Stone Hammer | Exchange 100 to 1000 Stone. The longer the server is open the higher the exchange rate. |
| | Iron Mould | Exchange 100 to 1000 Iron. The longer the server is open the higher the exchange rate. |
| | Iron Shovel | Exchange 100 to 1000 Food. The longer the server is open the higher the exchange rate. |
| | Amethyst Gem | Exchange for 100 to 1000 Wood, Stone, Iron, and Food. The longer the server is open the higher the exchange rate. |
| | Prismatic Jewel | Exchange for 10,000 to 100,000 Wood, Stone, Iron, and Food. The longer the server is open the higher the exchange rate. |
| | | |
| | | |
| | | |