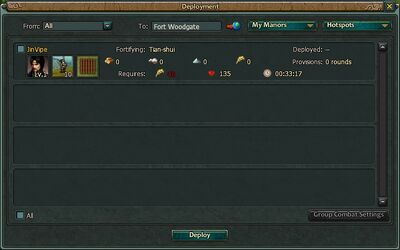 There are two ways to deploy heroes, you can either click the Deploy button on the main action menu or directly click on the target city from the world map.
Click

or click directly on the target city.
You can then choose which Hero to deploy from the Deployment menu. Remember, only Heroes leading rallied troops can be deployed.
Go to the upper right corner

click

,

or

to choose a destination.
Clicking

will let you choose a target city from the world maps. An arrow icon will appear over cities that your selected Troop(s) can reach. You cannot cities without an arrow icon .
Clicking

will display a drop-down menu of all the cities in which you currently have Manors.
Clicking

will display a drop-down menu of all your saved Hotspot cities.
After a target city is chosen, it will display on the top bar

Click

Attack Settings to set your attack strategy and then click deploy to start marching.
You can also directly click on any city,and click on "Deploy Here" to open the deployment menu. There you can choose which Heroes to deploy.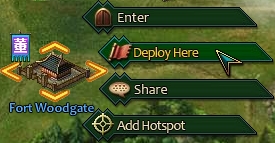 Community content is available under
CC-BY-SA
unless otherwise noted.