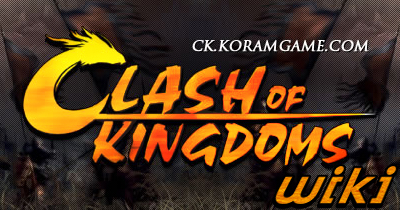 Welcome to the WikiEdit
Welcome to the Clash of Kingdom Wiki. We're a nice community website about Clash of Kingdoms that anyone, including you, can edit. Click the edit button at the top of any page to get started!
What is Clash of Kingdoms?Edit
Clash of Kingdoms was a Strategy Multiplayer Online Game based on the Three Kingdoms Period published by Koramgame, which also doesn't exist anymore.
Tips & TricksEdit
| | | | | | | |
| --- | --- | --- | --- | --- | --- | --- |
| A | B | C | D | E | F | G |
| | | | | | | |
| H | I | J | K | L | M | N |
| | | | | | | |
| O | P | Q | R | S | T | U |
| | | | | | | |
| V | W | X | Y | Z | | |
| | | | | | | |
Latest ActivityEdit